Thanks to its remarkable flavour, Extra Vodka is the perfect base for a wide variety of cocktails. From the classics to brand new concoctions, Extra Vodka blends beautifully with other ingredients and makes cocktails even more delightful.
Elevate any occasion with vodka cocktails made with Extra vodka and fresh, natural ingredients. When you raise a glass, raise it with something truly tasty inside.
A CUT ABOVE
EXTRAVODKA, LEMON JUICE AND HONEY
A cold medicine for grown-ups only!
2 oz Vikingfjord Vodka
3/4 oz lemon juice
3/4 oz honey syrup (2 parts honey to 1 part water)
Shake ingredients with ice and strain into chilled cocktail glass. Garnish with lemon.
MOJITO
2 oz Extra Vodka
3/4 lime cut into wedges
8-10 mint leaves
granulated cane sugar
Muddle lime and mint leaves in base of glass. Add other ingredients and fill old fashioned glass with crushed ice. Stir drink with bar spoon and serve with straws.
Vodka Grand Stand
2 oz Extra Vodka
3\4 oz Dolin dry vermouth
3\4 oz orange juice
Add all ingredients to a mixing glass filled with ice, stir until ice cold, and strain into a chilled coupe, Nick & Nora, or cocktail glass. Add an orange twist.
Extra on the rocks
2 oz (60 ml) Extra Vodka
2/3 oz (20 ml) White Creme de Menthe
1 Mint Sprig
Ice Cubes
Fill up mixing glass until half with ice and shake brandy and liqueur.
Fill up serving glass with ice cubes and fine strain chilled drink into it.
Garnish with mint sprig and enjoy at leisure.
Cherry Blomma
2 oz Extra Vodka
1 oz fresh-squeezed lemon juice
1/2 oz cherry syrup
4-6 ripe cherries
Sparkling water
Add all ingredients to a mixing glass and muddle cherries. Add vodka and ice, shake, and double strain into a highball glass over fresh ice. Top with sparkling water(Pellegrino, Perrier, etc.) and garnish with a whole, stem-on cherry.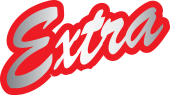 You must be 21 years old to visit this site.
Please verify your age